So, plans change. I was going to tell you how excited I was about holiday cups debuting at
Starbucks
, but then I decided to do you one better. Actually,
Google
did.
Google
is my hero today, hand down.
Johanna Basford
is a spectacle that was unknown to me until this morning. I am now obsessed with her work, and I am sure you will be too after you see these amazing images. Ms. Basford is an old school illustrator. Yep, she uses pencils and pens. Ink, graphite and paper, that is all there is to it people.
"I love the tactile nature of the materials I use and the joy of smudgy fingerprints. For me, computer generated work lacks soul and depth of character - hand drawing captures a sense of energy and charm which no pixel can ever replicate." --Johanna Basford
She clearly has a mantra, and it works for her.
This past September she caught the holiday cheer bug. (I know, a little early but hey I was going to tell you all about mine today until I found this.) Instead of Christmas shopping she used her powers of loveliness for a better purpose. This is how she envisioned the
Starbucks
Christmas cup, and let me say I am no longer excited about the coffee cup I am holding in my hand.

And because she goes above and beyond, here are some more lovely creations for all seasons: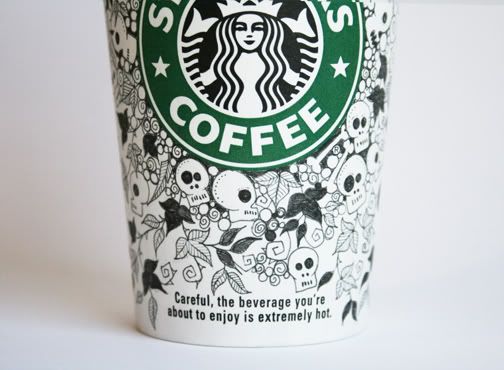 I mean really, these are astounding. These cups are just plain beautiful.
Starbucks
needs to notice, and then commission this girl because I want to drink my lattes from a cup like these.

Besides these cups
Johanna Basford
sells
amazing prints
. I really could get lost in this pen and ink world. Check out her
website
and her
blog
, she posts her own work on a regular basis. Swoonworthy, that is all there is to it.
Punctuate away,
Jessie-Lee