So, what originally got me into blogging was designing my wedding. Many of those wedding blogs I still read on a daily basis, there is just too much inspiration to pass up. I don't repost a lot because many of you out there really have no interest in a "daily bouquet," I just want things a little more well rounded than all weddings all the time.
However, today I came across the most wonderful engagement shoot I have ever seen! I am seriously not kidding. If you love
The Notebook
(and I mean really, who doesn't?) you will adore this post and save it in a safe spot until you can get a photographer to do this with you. Hey Babe, I am totally thinking anniversary shoot here, you with me? OK great!
OK, so this being a repost and all we need to get some links straight, it is only fair and proper.
This shoot was originally posted on
Green Wedding Shoes
(one of my daily reads) and since they are one of those "A-list Blogs" all of us aspire to be,
Blushing Bride Studio
sent them this content. Oh, I wonder what it's like to actually have people begging you to post them on your blog. One day.
Now, for a little background from the bride and groom to be. And yes, I promise to get to the images after this:
"We chose the movie The Notebook as inspiration for our engagement photo shoot for a few reasons. For one, Jean-Nicola's late grandparents had Alzheimer's disease and this movie touched close to home. Also, the chemistry of the young lovers in the movie was intense! And the era is very alluring to us- the fashion and way of life. We hope that our love endures all that life will throw at us, much like Noah and Allie. Oh, and we always fall asleep hand in hand (reference to the end of the movie)…" (via Green Wedding Shoes)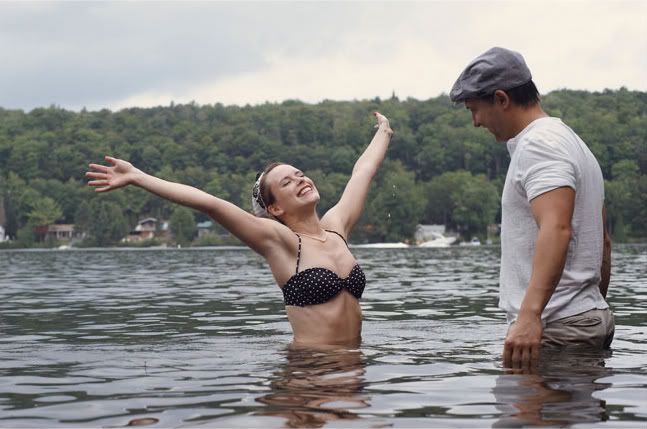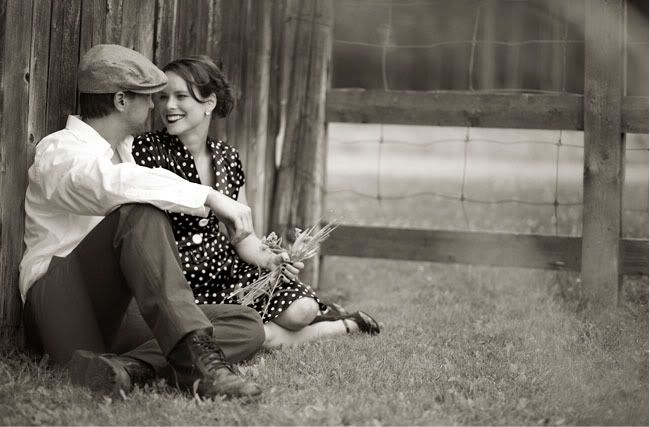 Totally lovely right? Doesn't it just make you jealous they were able to live such an amazing fantasy. Seriously, I want to do this. It is just so romantic, and they really do look so happy and so in love.
What would you do? For your "E-session" would you want to have a theme or do you just want we are so happy and in love pics of you and your significant other? We did the so happy and in love pics. Jon hates them, but I happen to like ours quite a bit!
For more shots of this amazing couple please visit
Green Wedding Shoes
. There is much more to be seen at the original post!
Punctuate away,
Jessie-Lee