I don't know about you, but my elementary school experience would not have been complete without these things. You fate was in the hands of the cootie catcher! And you did not want to get stuck picking the flap that led you and all your friends to belive you were going to marry to dorkiest boy in school. Can you say embarrassing?
Well now that we are all grown up and super mature, we still make these awesome little predictors of our future. We are just classy enough to do it in letterpress now, well at least
Sycamore Street Press
is.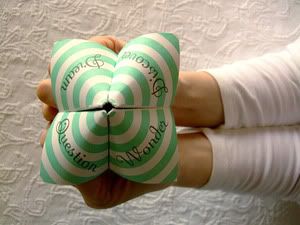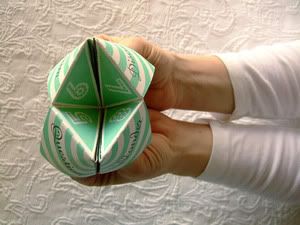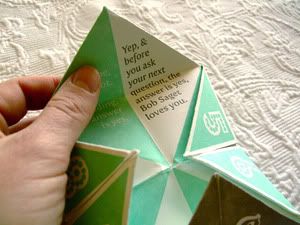 Gotta love it! Entirely sophisticated right? I think I am just going to have to make one and keep it on my desk for inspiration. It's nice to have reminders to stay playful.
I bet you are thinking to yourself, "I wish I remembered how to make one of these!" No worries. I got your back. In case you are wondering
Ruffled
has a
tutorial
! Their intention is that you use them at weddings for menus and such, which would be cool but I am way more into just playing with them.
Drop me a line when you finish! I would love to see your creations. It would be a worthy follow up post.
Have fun! Ohh and don't forget to put an ugly boys name under one flap, you just have to!
Punctuate away,
Jessie-Lee