Hello again blogging world! So sorry to have taken a mini sabbatical. I had to head up to OC, MD this past weekend for some birthday cheers. Long story, not going there, but we did have a great time! (I think?) Anywho, between road trips and MBA classes I have been a little MIA, but we are back on track! So let's get into this weeks "Can I Live Here?"
OK, not going to lie. I am just going to put it out there. I have a major crush on the woman that lives in this house. May I introduce to you
Erin Napier
of
Lucky Luxe Couture Correspondence
! So, Erin and her husband Ben own a toothpaste factory loft in Laurel, Mississippi. Who lives in a toothpaste factory? Can you say awesome?!? Anyway, let me get to the source of my crush. Erin owns an amazing stationery shop, very vintage and old world, it has an amazing charm. Go check it out! Once I found her work online I fell in love with her style and mimicked it in my own wedding invitations. I feel like that style could just be perfect for any event, it is so lovely and so comforting. I love it!
But moving on, so she is a graphic designer (living my dream life) living with her awesome husband in a toothpaste factory! Anyway, here are the pics...
Love the mix-matched chairs and the natural light. Who wouldn't want that kind of light in their kitchen, can you say "Goooood Morning!"
I want a gallery style wall in my place, every time I see them I swoon. They look so put together. I need some of that in my life. Oh and can we talk about the trunk? I used to have one of those, until Jon made me give it up, he just doesn't appreciate vintage!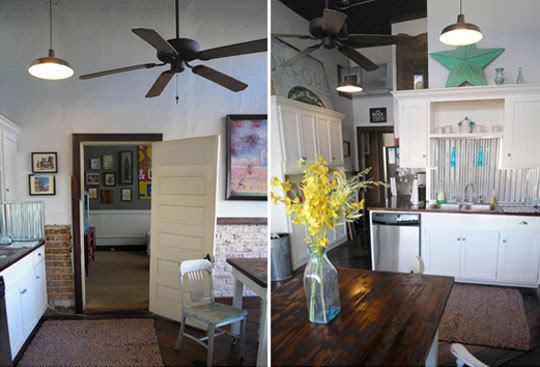 Exposed brick! End of story. Love.
Such an awesome work area. This is why I want a house sooner than later, so I can have my own design room, my very own place to go work! I am jealous of all of you that have one!
Totally gorgeous right? Urgh, what I would give to have hardwoods like that, with huge open windows. That is the one drawback of our apartment now, no natural light. It is about the only thing I miss about our old place. That must have been a turn of the century thing, all the natural light. I mean logistically it makes sense, but it really is a delight. It makes everything so bright and cheery. Here is what Erin had to say about her lovely place over at
Apartment Therapy
.
Our loft apartment was built around 1903 and was a toothpaste factory after World War I. Now it's our home and the studio of Lucky Luxe Couture Correspondence. After years of being a law office, my family bought this flatiron building and we got to work on renovations. We love a do-it-yourself project, so we dug into every aspect we could with re-purposed materials and antiques after the big issues like plumbing, electrical and cabinetry were finished by our contractors.




The loft is 2,200 square feet. The floors are original 10" wide planks, the walls are plaster and exposed brick, and our eclectic art collection was found in various antique malls, roadside, or done by myself. 11 massive 10' windows face Magnolia Street and a park below, where we have summertime cookouts beneath oak trees and lanterns with our downtown neighbors — our Ole Miss roommates married and settled down across the street and next door!
The style of our loft is inspired by cottage coziness (lots of books, deep, plush couches, farmhouse dinner table and distressed, colorfully painted furniture) with a few of my husband's industrial touches (the pendant lights, galvanized tin backsplashes, car parts used as art). We'd love for y'all to come in and take a look around!

Thanks Erin & Ben!
Personally, I love the fact that these two added enough modern elements so that they can live comfortably, but these additions do not compromise the overall feel of the factory. They have simply enhanced it while leaving all the proper essences to be absorbed.
I have always wanted an old, lived in home. They have so much character, and just instantly seem cozy to me. It's a constant debate with the non-design inclined Hubs. He prefers new to old. Always. So boring, but it keeps me from being entirely nonsensical.
Just wonderful! I highly recommend reading both of Erin's blogs,
here
and
here
. She really seems like such a sweetheart, and who wouldn't be with all of those lovelies in their life!
Let me know what you think! Modern or vintage? Where would you want to live?
{image cred:
Apartment Therapy
}
Punctuate away,
Jessie-Lee